New work! Hurray! This is the rarely seen Narwhalship - half narwhal, half ship, completely awesome! He is a small 6x9 piece, that I painted one day while waiting for other work to dry, and I just love him. Painted with my fancy new
Liquitex Heavy Body Acrylics
. I really recommend these paints - not just cause they're smooth like buttah but also because the packaging is really nice. Yeah, I judge a book by its' cover. (The Narwhalship could
be yours
!)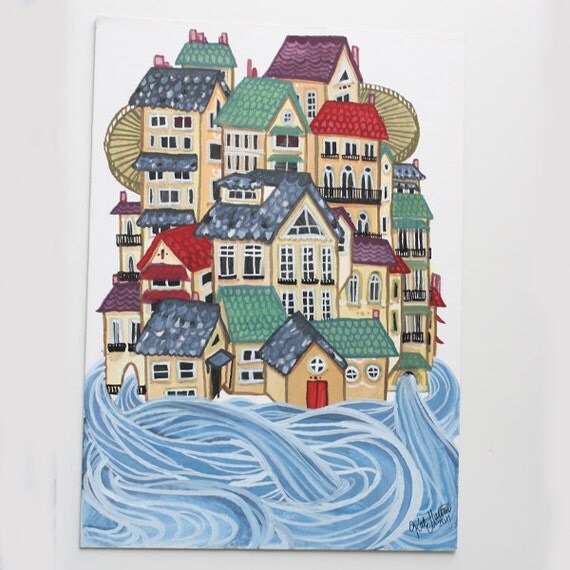 So because I work at an art store and someone opened a set of gouache (and if you are like me and have no idea how to pronounce it, it is, in fact, pronounced 'gwash'. Just fyi!) tubes and stole the red tube, I got the rest of the set free, so I decided, hey, I should try using gouache! This is the first painting I've ever done with gouache, and I gotta say, I like it! I used both
Winsor & Newton Designer's Gouache
and
Holbein Acryla Gouache
, and I think I prefer the Holbein, because it's easier to get the right consistency with the paint. Everyone should try it out! I know I want to do more with it! (Pst, also, it's up
for sale
at my shop, if anyone's interested)
In other exciting news, between going to the
Wicked Plants
exhibit at the Conservatory of Flowers in Golden Gate Park:
...And having crazy awesome adventures:
...I'm also going to be in an art show! My co-worker is curating one, and almost everyone at work is going to be in it. I'm going to help him hang it today, but I'm so nervous - I've never been in an art show before! I spent a bunch of time framing my stuff today and I even got some fancy mats, so I hope it turns out well. I'm so scared I'm going to put my stuff up next to everyone else's and they'll be the worst ones there, hahaha! Oh well, at least I'm giving it a shot, right?
Tomorrow we're filming a fake trailer for a movie spoof, next weekend is the gallery opening party, the weekend after that my Mom is coming to visit (yay!) and the weekend after THAT is our big nautical house party - so many decoration ideas, I will keep you all posted. Hope you made it through this epicly long post, and have a great weekend, everyone! Xoxo!